Downtown San Diego is constantly changing.  If you are standing in the middle of the Gaslamp Quarter, in nearly every direction, you'll see a crane.  If you don't see a crane, you'll definitely hear construction crews or come across a street closure.  Development is on the rise and San Diego is in a constant state of transformation.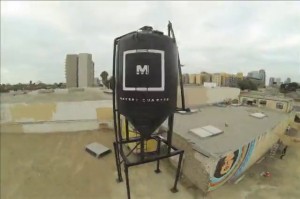 Enter Makers Quarter with its black silo boldly emblazing "M" beckoning for creative and innovative thinkers alike to bound together and quench their thirst for the ever-changing artistic economy.  Makers Quarter would be newest addition to San Diego's flourishing and vibrant Upper East Village in Downtown.  Developers have unveiled plans for this urban mixed-use neighborhood which would be part of a larger planned "I.D.E.A District" is intended to draw in innovated and technology related companies and workers for a collective live, work, and play neighborhood .  Makers Quarter outlines the eastern edge of Downtown and defines the southern edge of San Diego City College. The quarter stretches out just minutes away from the famous Balboa Park and enclaves a melting pot of vividly artistic neighborhoods.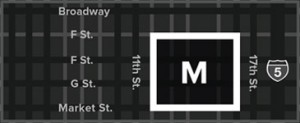 The estimated $900 million master plan by developers is set to stretch out five blocks, roughly spanning from 14th Street to 17th Street, and Broadway to G Street. The decade to 15 year assessed time frame projects intent for mixed-use buildings housing offices, apartments and retail spaces.  Developers are also looking to include an open marketplace with community gathering spots that will emphasize walkability and other sustainable elements.   The area is already home to Art Warehouses and a Community Garden project. 
The quarter's first building has an anticipated opening of 2016, but in the meantime, San Diego urban dwellers have been given a tantalizing nibble of what's to come- SILO.  SILO is the area's raw authentic open space on the corner of 15th and F streets showcasing funky repurposed wood pallets as outdoor furniture and hypnotically vibrant murals orchestrated by local artists. Since launching, SILO has hosted a San Diego Film Festival party, an urban pumpkin patch, a holiday-shopping bazaar and a "Craft Beer and Bites" for the San Diego Brewers Guild.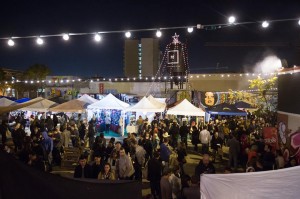 The collaborative events have been enormously successful bringing in distinctive crowds from both nearby and even outlying neighborhoods to connect and embrace the creative culture. The second "Craft Beer and Bites" went off on Saturday, April 5, 2014. Locals and enthusiasts alike bonded over craft beer and challenged each other to one of the many interactive games presented, including bocce ball, ping pong, and giant Jenga.
However, it's not all fun and games in urban planning. Building this incremental progression in reflecting the East Village community goals of a new emerging urban sustainable culture and neighborhood will leave the developers behind Makers Quarter with their work cut out for them.
Many questions still remain unknown of how the neighborhood transformation will really pan out, but one thing is for sure, the war for talent has begun and the East Village is crafting its own identity to recruit the cream of the crop.
For more information regarding Makers Quarter and events held, please check out http://www.makersquarter.com/about .
Other upcoming projects in the area are:
A large community gateway sign
An art object made out of bottle caps at the Park Boulevard and Market Street trolley stop
A street bazaar
East Village Green special events
Increasing use of street banners to tout East Village's assets.
For more information on East Village events and projects, please check out http://eastvillagesandiego.com/.