Happy Centennial to Julian Lofts and Church Lofts!
The Julian Lofts Building and Church Lofts, respectively known as the Julian Produce Company Warehouse Building and the First Baptist Church, were built 100 years ago.  We celebrate the 100th birthday of these historically designated landmarks with great pride.
Julian Produce Company Warehouse Building, 1912 (Julian Lofts Building)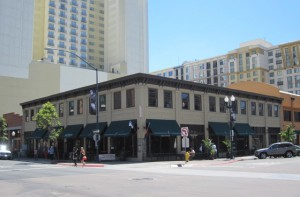 This two-story Italianate-style property is individually significant as a local, state, and national historic resource.  Because of its proven historical and/or architectural significance, it qualifies as a contributor to the Warehouse Thematic Historic District, meeting the City of San Diego's Historical Resource Board Criterion.
The Julian Produce Building reflects San Diego's industrial development during the first half of the twentieth century, when it was the economic engine of the city.  As a district contributor, the Julian Produce Building helps to convey the significance of the district as a whole as: 1) a warehouse building type; 2) a warehouse that is distinctive for its architectural design; 3) a warehouse that incorporates specific building materials and reflects a distinctive method of construction and 4) an industrial building that was used for storage, repair, manufacture, preparation or treatment of any article, substance or commodity, including buildings used as stables and garages.
Today, 100 years later, the Julian Produce Company Warehouse Building is designated as Live/Work Lofts and houses the Blind Burro (http://goodtimedesignsd.com/portfolioentry/the-blind-burro/), one of our newest East Village commercial tenants.
First Baptist Church, 1912 (Church Lofts)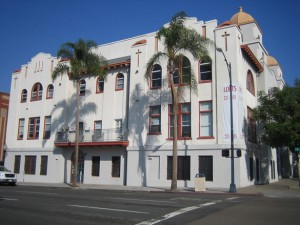 The space where congregants of the former First Baptist Church once gathered for Sunday morning services, was converted by Trilogy in 1995, into 23 Live/Work Lofts for San Diego's Upper East Village residents.  With high cathedral ceilings, airy sunny rooms, polished hardwood floors and the use of interior features from the old church, the Church Lofts have proven to be very appealing and unique to downtown living.
When developer Bud Fischer (Partner) and architect Dick Bundy took on the daunting project, they made a decision to keep intact as much of the original church architecture as possible.  Although the church took possession of the stained-glass windows, the original woodwork and ironwork were preserved, as were the balconies, skylights, wood floors, railings and a copper-colored tin ceiling in one of the units.  This was one of the most difficult projects that were undertaken by Trilogy.
Before the building was converted, other ideas were explored such as, expanding the central library, an office building, an arts center…all were eventually rejected.  There were even thoughts of tearing it down and putting up a parking lot.  Without the subsidy from the downtown redevelopment corporation, the project would not have been possible.
The innovative project, which preserved the Mission Revival structure right down to the brick inlaid baptismal font, remains 100% occupied to date…which is fitting for it's 100th year birthday!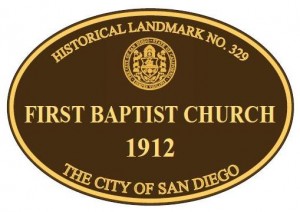 Happy Centennial to the Julian Produce Company Warehouse Building and to the First Baptist Church!